The 1st and Only Flexible Growler
AstraPouch® is proud to introduce the first flexible-packaging growler! Perfect for coffee shops, wine bars and tastings rooms, the To Go pouch features the same sturdy construction, recyclable materials, and high quality tap dispensers you count on in all AstroPaq® pouches.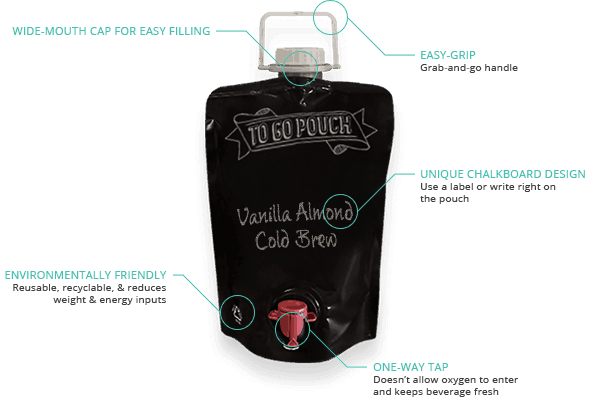 Why Choose AstroPaq® 1.5L Flexible Wine Growler?
Fills easily through wide-mouth cap— no fixture needed
Stays fresh—5x longer shelf-life once opened than in glass growlers
Saves space—flat pouches take up 1/4 the space of glass growlers
Costs less—$2.82 each vs. $5.00 each for glass growlers
Fully customizable—can be preprinted, labeled, or hand-written
Versatile—ideal for wine, spirits, slushies, cold brew coffee and more!
1.5L Wine Growler Pricing:
1-2 boxes:
$338 

$240

each
3-6 boxes:
$318 

$240

each
7-12 boxes:
$298 

$240

each
Count: 120 growlers per box
NOTE: The AstroPaq® Flexible Wine Growler cannot be used for carbonated beverages; use with still beverages only. Not intended for long-term storage of beverages. Patent pending. Tamper evident cap available upon request.