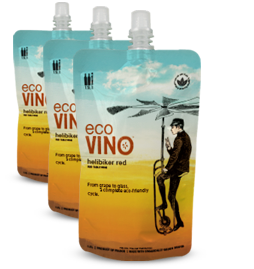 If AstroPaq® is anything, it's marketable. With matchless and innovative design that is easy to use and take on the go, it also cools quickly and offers an eco-friendly alternative to traditional glass bottles or even that good old "box" of wine.
Its large, flat surface provides a complete-package branding opportunity that allows you to billboard your brand on shelves, end caps and in storefronts like never before. And it's the only alcohol beverage package that can be hung from a hook!
Your customers already enjoy your products. But, wouldn't it be great to create greater brand awareness while providing your target market with a completely new and "cool" way to drink?

Chills fast, 14 minutes in AstroPaq® vs. 40 minutes in glass, using less energy
Resealable and stays fresh for up to one month after opening
80% smaller carbon footprint than two bottles of wine
Only 2% packaging by weight
1 truck load of empty AstroPaq® pouches is equal to 14 truckloads of empty glass bottles
No cork contamination
Avoids "no glass at the beach" rule

The Parrot Bay Tropical Rum Punch AstroPaq® took home the gold at the 2013 Gold Ink Awards in the flexible packaging category. Gold Ink is a celebration of the best-of-the-best printed products and is the industry's most prestigious print competition, with thousands of submissions from around the world each year.