Our experience has proven that consumers are willing to pay for this exciting package. How can we be so confident? We believe in our product and have seen the success.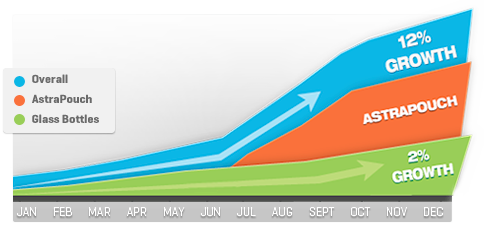 This innovative and highly marketable packaging is about more than being cool and different. It's about opportunity: the opportunity for exponential sales growth, access to new markets, increased brand recognition and to become part of an industry-wide revolution.

One winery owner has seen a 21% improvement in margins and a 30% improvement in volume as a result of introducing AstroPaq®.

A small 30,000 case winery experienced a 30% revenue bump in the first year of offering AstroPaq® with no fallout for existing the 1.5L glass line.

A major global spirits company raised equity of this prestigious million-case brand & grew its top line by 5%.